Couples & 50+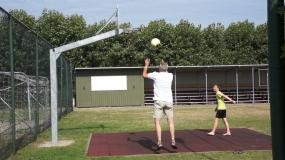 Camping de Wijde Blick is very suitable for people who go on holiday as a couple, 50-plus people, and active seniors. Enjoy a green and atmospheric campsite with many facilities, including:
* Jeu de boule court
* Indoor pool
* Luxury, clean and heated toilet buildings
* Sandwich service
* Restaurant (limited opening hours in winter)

From the campsite, you can follow various hiking and cycling routes. With a bicycle, it's only 10 minutes to reach the beach or visit one of the many quaint villages/towns in the area.

Special arrangements
Outside of regular school holidays, we have special arrangements for you to take advantage of. Going camping? Then you can use our camping card, or of course one of our camping arrangements. Looking to rent? Then use one of your rental discount offers.

Camping: camping card
We accept the ASCI card, ANWB camping keycard and the Pasar Card. With these special discount cards, you will only pay €17 a night for two people (excluding tourist tax at €1,12 p.p.p.n.)

The camping card also includes the following:
- A comfort campsite with electrical connection (6 or 10 ampere), CATV connection and most sites have a water tap.
- Extra discount! Make a reservation for 14 nights and only pay for 12, or book for 21 nights and only pay 18!
- Free use of the showers, hot water at the dishwashing sinks, washbasins, etc.
- Free use of the dishwasher service
- Free use of facilities like the pool
- 1 dog allowed

Rental:
From September 4 to December 23, you will receive a 10% discount on the rent price (applies to seniors aged 65 and over) when booking for a week or more. Book a chalet for two weeks in September or October, and the second week is half off. When booking three weeks, the third week is free!

Want to get away from it all for a month? From November through February, we have a special month offer. For a type C chalet you only pay €450, a type B costs €475, and a type A €500. Note! This price is excluding use of electricity and gas, and is not meant for permanent accommodation.